Tuesday, December 5, 2017 » 8:00 p.m.
A Not So Silent Night
Baruch Performing Arts Center (BPAC)
Engelman Recital Hall, Baruch College
(City University of  New York)
55 Lexington Avenue
(Enter on E. 25th Street, Btn. 3rd & Lexington Aves.)
New York, NY 10010
BOX OFFICE: (646) 312-5073
TICKETS: $26, Baruch Faculty and Students Free with ID
Eugene Marlow's Heritage Ensemble is pleased to return to the Baruch Performing Arts Center for their 9th year to share their unique sound of cross-cultural holiday arrangements in their performance of "A Not So Silent Night".
They will be playing selections from their CD "A Not So Silent Night."  The Album is The Ensemble's unique take of traditional Chanukah and Christmas holiday melodies in various jazz and Afro-Caribbean styles, including "Dreidel, Dreidel, Dreidel," "Rock of Ages," "Jingle Bells," and "Auld Lang Syne."
The album is the 8th from The Heritage Ensemble.
"A Not So Silent Night" is an interactive happening of holiday happiness,
humor & harmony for the holiday season performed in a way only The Heritage Ensemble can. It will take you on a wondrous winter journey that will warm
your heart and lift your spirits with their unique mix of jazz and Afro-Caribbean
rhythms and traditional melodies leaving you perfectly gift rapt!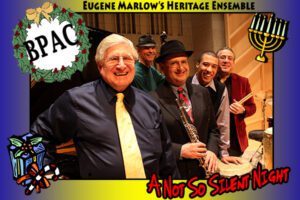 This ensemble of first-rate musicians includes: Award-winning bandleader/keyboardist Eugene Marlow, seven-time Grammy nominee drummer Bobby Sanabria, the melodically expressive saxophonist Michael Hashim, virtuoso percussionist Matthew Gonzalez, and electrifying bassist Frank Wagner.
"Eugene Marlow's Heritage Ensemble creates wonderful cultural connections through the
universal language of music."
                     — Arts Westchester
---
This concert is sponsored by:
The Weissman School of Arts & Sciences (Baruch College, CUNY)
The Wasserman Jewish Studies Center (Baruch College, CUNY)
The Baruch Performing Arts Center (BPAC)
Hillel (Baruch College, CUNY)
---