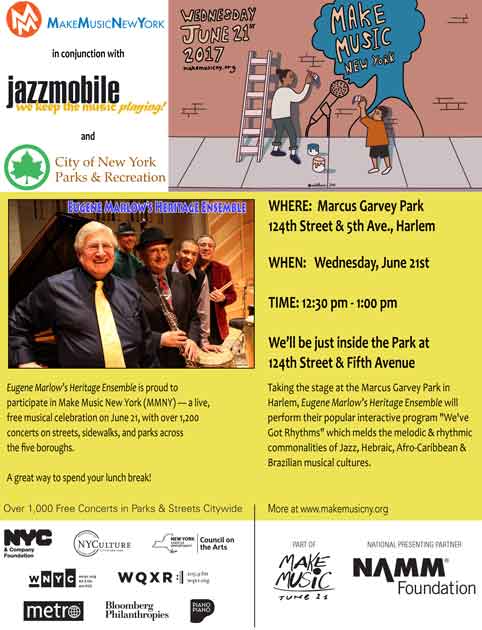 Wednesday, June 21, 2017 >> 12:30 p.m. – 1:00 p.m.
Make Music New York in conjunction with JazzMobile &
the City of New York Department of Parks & Recreation
Marcus Garvey Park in Harlem
We'll be just inside the park at
124th Street & 5th Avenue
TICKETS: Free Lunch Time Event
The Heritage Ensemble is proud to participate in Make Music New York (MMNY) — a live, free musical celebration on June 21, with over 1,200 concerts on streets, sidewalks, and parks across the five boroughs.
Taking the stage at Marcus Garvey Park in Harlem, The Heritage Ensemble will perform their popular interactive program "We've Got Rhythms" which includes selections from their CDs  "A Fresh Take," "Mosaica" and"Changes" — a great way to spend your lunch break!
The Heritage Ensemble has a fresh sound and experience that jazz audiences and beyond can access, be inspired by, and appreciate. This imaginative and tight quintet melds the melodic & rhythmic commonalities among Jazz, Hebraic, Afro-Caribbean & Brazilian musical cultures. This is why the New York City Jazz Record called the ensemble "a cross-cultural collaboration that spins and grooves."  This audience-interactive musical performance is not to be missed.
This ensemble of first-rate musicians includes: Award-winning bandleader/keyboardist Eugene Marlow, seven-time Grammy nominee drummer Bobby Sanabria, award-winning saxophonist Michael Hashim, virtuoso percussionist Matthew Gonzalez, and electrifying bassist Frank Wagner.
---
About Make Music New York
Now in its eleventh year, Make Music New York, "the largest music event ever to grace Gotham" (Metro New York), is a unique festival of 1,000+ free concerts in public spaces throughout the five boroughs of New York City, all on June 21st, the first day of summer. MMNY takes place simultaneously with similar festivities in more than 700 cities around the world – a global celebration of music making.
From 10 in the morning to 10 at night, musicians of all ages, creeds, and musical persuasions – from hip hop to opera, Latin jazz to punk rock – perform on streets, sidewalks, stoops, plazas, cemeteries, parks and gardens. From high school bands to marquee names, MMNY is open to anyone who wants to take part, enjoyed by everyone who wants to attend.
Over 1,000 MMNY concerts have taken place in each of the last seven years.